By Retired Colonel Associate Professor Dr. Ö. Lütfi TAŞÇIOĞLU
Date: January 7, 2021
The Karabakh Conflict: Armenia's Occupation and Azerbaijan's Struggle
By Retired Colonel Associate Professor Dr. Ö. Lütfi TAŞÇIOĞLU
Date: January 7, 2021
This article is based on the video of the presentation by Retired Colonel Associate Professor Dr. Ö. Lütfi TAŞÇIOĞLU
Introduction:
This discussion delves into the Turkish-Armenian relations in 2020 within the context of the Karabakh war. To comprehensively understand the Karabakh conflict, it is essential to provide a concise overview of its historical background.
Historical Background:
The contemporary Armenian issue, particularly the Karabakh problem, traces its origins to Russia's policies starting from the 18th century. These policies aimed to sever the linguistic and cultural connection between Anatolian Turks and Central Asian Turkic culture. This endeavor garnered support from England, France, and America. In 1918, England even attempted to establish an Armenian state within Anatolian territories for the same purpose.
Between 1828 and 1908, the Armenian population settled in Turkish territories reached 1,300,000. This mass resettlement created an ethnic barrier, primarily consisting of Armenians, between Turkey and Azerbaijan. By 1923, the Soviet parliament sanctioned the establishment of a distinct Turkish region in Zengezur, where Turks were densely populated, and an autonomous Armenian region in Karabakh.
While an autonomous Armenian region was formed in Karabakh, the special Turkish region envisioned for Zengezur was never realized. In 1988, Armenians in Zengezur massacred Turks, resulting in the forced evacuation of 160,000 Turkish inhabitants from the region. Armenians were subsequently resettled in the vacated areas, effectively annexing Zengezur to Armenia and solidifying a barrier between Turkey and Azerbaijan.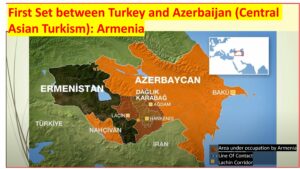 Mustafa Kemal Atatürk referred to this barrier as the "Caucasian Wall" and, in his directive to Corps Commanders in 1920, emphasized its significance as Turkey's top-priority project. Atatürk's directive stressed the need to prevent the establishment of this barrier at any cost.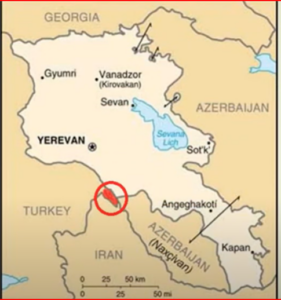 The Moscow and Kars agreements granting autonomous status to Nakhichevan were driven by Turkey's desire to become a stakeholder in Nakhichevan's status. Atatürk also acquired an 11-kilometer territory between Aralık-Dilucu in Iğdır province and Nakhchivan's Sederek district from Iran, aiming to maintain the connection between Anatolian Turks and Central Asian Turks by dismantling the Caucasian Wall.
In 1992, Armenians committed the Hocalı  (also known as, Khojaly or Khogaly) Massacre on the night of February 25-26, intending to create a second barrier in the region. Though it carries characteristics of genocide, it is essential to refrain from using the term "genocide" from an international law perspective, as there hasn't been a court decision on this matter. During the Hocalı Massacre, 613 Turks lost their lives, including 83 children, 106 women, and 70 elderly individuals. The majority of the victims were women, children, and the elderly. This tragic event resulted in over one million Azerbaijani Turks becoming refugees in their homeland.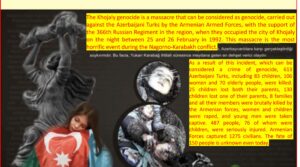 Subsequently, Armenia's occupation of the surrounding seven regions fortified the second Caucasian barrier in the region. The first barrier was initially established by taking Zengezur from the Turks and linking it to Armenia. The second barrier, situated between Nahçıvan and Azerbaijan, materialized through the Hocalı Massacre and the subsequent occupation of seven regions.

Armenia's intentions and Plans:
Armenia's actions indicate a deliberate plan involving mass killing of the local population, forcing them to abandon their lands, and resettling Armenian settlers in these territories, effectively creating a second Armenia within Azerbaijan's borders, based on population, after Armenia itself.
The Role of International Bodies:
In 1992, the OSCE Minsk Group assumed responsibility for the Karabakh issue. However, it disregarded four United Nations Security Council resolutions demanding the withdrawal of Armenian forces from the occupied territories. Notably, when the United Nations General Assembly passed a resolution in 2008 urging Armenians to vacate the occupied territories, seven countries, including three Minsk Group co-chairs (the United States, Russia, and France), voted against it. This indicates open support from these countries for Armenia's occupation of Azerbaijani land.
Recent Developments:
In 2018, Nikol Pashinyan, a journalist with ties to Soros, assumed the position of Prime Minister through street protests backed by the U.S. Embassy in Yerevan. It's noteworthy that the United States maintains its largest embassy in the world in Yerevan, with a staff of 2,500 individuals.
Armenia's Current Strategy:
Armenia's strategy is to control Russia through Armenia, Iran, and Turkey when favorable conditions arise, disrupting Russia in the process. In 2020, Armenia attacked Tovuz, a city 200 kilometers north of Karabakh, aiming to disrupt energy and transportation links between Azerbaijan, Turkey, and Europe while creating tension between Turkey and Russia. This plan was likely devised at the U.S. Embassy in Yerevan.
Despite the Tovuz attacks yielding no significant gains, Armenia escalated the conflict by attacking Azerbaijani positions and civilian targets in Terter, Aghdam, Fuzuli, and Jabrayil on September 27, 2020. The ensuing clashes lasted 44 days, marked by multiple ceasefire agreements that Armenia repeatedly violated, targeting civilians with guided missiles during ceasefires.
External Support:
In response to Armenia's escalating aggression, the Syrian branch of the PKK, known as the PYD and YPG, dispatched an Armenian brigade to Armenia, facilitated by Greek aircraft. Additionally, a Cypriot Greek official provided training to foreign militiamen supporting Armenia.
Ceasefire and Future Implications:
Ultimately, with Turkey and Russia's mediation, an Armenian-Azerbaijani Ceasefire Agreement was signed as the Armenian army faced imminent defeat. This decision is considered flawed because, had the ceasefire not been agreed upon, the remnants of the Armenian army would have likely been eliminated by the Azerbaijani forces. Consequently, there would have been no Armenian military threat to Azerbaijan and Turkey in the future.
Ceasefire Agreement Details:
Under the agreement, Turkish and Russian forces will serve as peacekeepers in Karabakh, establishing joint observation points. Unless one of the parties to the agreement requests termination, it will automatically renew every five years.
Corridor Provisions:
The agreement also mandates the opening of a Lachin Corridor to connect Armenia with Karabakh. In return, a corridor will be established from Zengezur, historically Turkish territory forcibly annexed by Armenia, to facilitate communication between Nakhichevan and Azerbaijan. Notably, this Zengezur corridor is considered one of the most beneficial aspects of the agreement for Azerbaijan and Turkey.
Armenia's Position:
Armenia's constitution and Declaration of Independence still reference Mount Ararat as a symbol of the Armenian state, along with territorial claims over parts of Eastern Southeast Anatolia and the Mediterranean Region of Turkey, termed "Western Armenia."
Armenia's Diplomatic Actions:
Armenia has taken several actions, such as retaining the term "Western Armenia" in its constitution, portraying Turkish and Azerbaijani territories as "Greater Armenia" on the official Armenian Ministry of Foreign Affairs website, and establishing a television channel named "Armenian State Television," which disseminates news that attributes Turkish territories to Armenia.
Western Armenia Parliament:
Furthermore, Armenia maintains the so-called Western Armenia Parliament, despite its expansionist policies against Turkey and Azerbaijan. Additionally, Armenia has not officially withdrawn its genocide allegations against Turkey or completely vacated Azerbaijani territories.
Conclusion:
In light of Armenia's enduring expansionist and threatening policies toward Turkey and Azerbaijan, its non-recognition of the Gumru and Kars treaties, retention of "Mount Ararat" and "Western Armenia" in its constitution and Declaration of Independence, and the existence of the television channel "Armenian State Television," the idea of Turkey reopening its border with Armenia should not be entertained.
Recommendations:
Diplomatic relations with Armenia should not be established.
Participation in any platform involving Armenia should be avoided.
Past presidents, including Kocharian, Sarkisian, and Pashinyan, should face prosecution at the International Criminal Court for their alleged involvement in war crimes and crimes against humanity committed in Hocali and Karabakh.
Azerbaijan should consider initiating legal proceedings against these leaders at the International Criminal Court to achieve justice.